Why You Should Choose Mortgage Brokers Red Deer | Universal Mortgage Solutions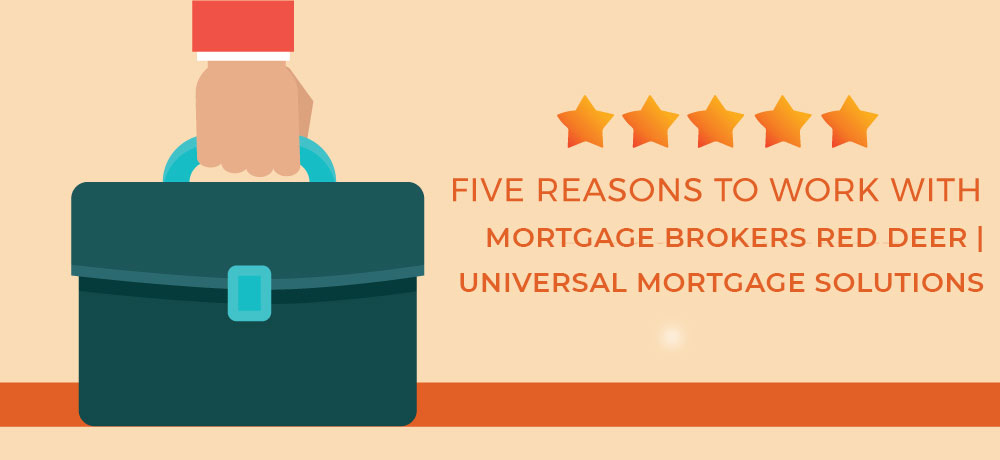 Mortgage brokers play a few roles in helping you purchase the home you've been dreaming about. They'll sit down with you and assess your finances first, as well as establish your individual needs. They'll shop around for you so you don't have to go through the process yourself and will be there to help and guide you.
As experts in their field, mortgage brokers not just help you save time and money, but find you a great deal. With years of experience on their side, they help you avoid any unexpected obstacles that may arise during the application process, or help you deal with them as quickly as possible. However, picking who to work with may lead to a few headaches due to the number of available options.
Which is why, when you're looking for a mortgage broker, you need to put in a sufficient amount of research in order to find someone that matches your expectations. You need to go through reviews you find online and speak to people who've worked with them.
At Mortgage Brokers Red Deer | Universal Mortgage Solutions., we are confident about the services we provide and will not shy away from giving you references. Besides, we will be happy to tell you why we are the top name in the mortgage business. We have been in the mortgage and financial industry for the past thirty years and have several happy clients. If you're looking for a mortgage professional, here are five reasons why we stand out from the rest.
I have been a licensed mortgage broker in the province of Alberta for seventeen years.
Prior to that, I worked for the Credit Union System for over fifteen years. Having that many years of financial experience, the knowledge I have to share with you is expansive.
I care about the clients I serve. I don't say this loosely! When people place their trust in me to find them a mortgage that will benefit their family and finances, I take that seriously. I spend many hours a week researching new policies that our federal finance department puts in place and then I follow up to see what procedures our lending partners have put in place making sure I will be securing the right mortgage for each individual file I work with.
I am committed to continual education. I attend our industry conferences and separate training sessions to ensure I am up to date on new technologies and implement new systems to be able to work effectively and efficiently.
I have lived in Central Alberta all my life and have roots here. Not only do I have a good handle on our economic cycles here in Alberta, I also have experience in dealing with credit situations that have been negatively impacted by our recession, by finding alternative lending solutions for people until they get their financial footing again.
I can help you in any situation. Whether you are a first time home buyer, an existing homeowner that needs to access their equity or a retired couple that would like a reverse mortgage, I have strategies and mortgage products to help you wherever you are in your financial life cycle.
As a well experienced mortgage broker in Central Alberta (mainly Red Deer, Rocky Mountain House, Innisfail, Blackfalds, Penhold, Lacombe, Ponoka, Elnora, and Mirror, AB, we ensure that we exceed expectations and always put you first.
To learn more about the services we offer at Mortgage Brokers Red Deer | Universal Mortgage Solutions., please click here. To read what our clients are saying about us, please click here. If you have any questions about how we can help you, get in touch with us by clicking here.
---
---